Clothes with Skulls on Them
Trying to find your style is one of the hardest things you'll have to do. If you're the kind of person who loves a unique look and wants to be edgy without going too far, then skulls are the way to go. They spice up any outfit and add enough personality to get you noticed without being too flashy or too strange. Below are the top five picks for people looking to add a little flair to their wardrobe with some great skull items.
If you're looking for a cute skirt to complete a perfect outfit, you've found it here. This pleated skirt is covered by overlapping skulls from various angles. Because of the overlapping, the skirt blends together gray, white, and black shades. From far away it looks like an intricate pattern, and the closer you get, that pattern becomes the well-placed skulls. The best part is that because the colors aren't bright or odd, this skirt will match nearly any shirt you can think of, making it the perfect addition to your closet.
Everyone knows someone who loves to cook. And even if you're that person yourself, then you're in luck! This full-length apron will please any chef. It's completely white with a very colorful sugar skull at the center of the bust. The colors are beautiful and bright, and the design of the skull very detailed. It's a must-have for all kitchens.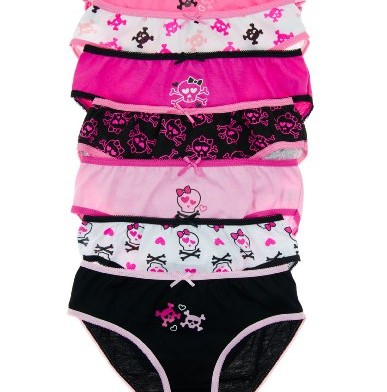 It's easy to look good and feel pretty on the outside, but there are some days when you need to look pretty on the inside too. This pack of panties provides you with plenty of opportunities to feel just as cute with your wardrobe selection under your clothes as you do with what's on the outside. With seven of them, feel free to spend a whole week rocking a new pair each day.
For those looking for a casual pick to wear either around the house or for a low-key function: look no further! This blue and white blended t-shirt features a nearly 3D skull on the front with the words, "Affliction American Customs" written around it. This v-neck tee is comfortable and will quickly become a favorite for anyone who buys it. Match it with jeans, wear it to bed, or take it out to the club. No matter where you go, this tee is sure to keep you feeling great.
This pullover shirt is black and features a gray skull over the majority of the shirt. If comfort is your game, there's very little your can find that will beat this shirt. It's large and spacious, allowing lots of movement. Feel free to put it on to curl up with a great book, or to go out to a casual October party. It'll make you look down-to-earth and cute while also feeling great. Bonus: The long sleeves and thick material are perfect for the fall and winter months!