Plus Size Skull Clothing
For us larger ladies, it's sometimes harder to find clothes that not only fit and are appropriate for the occasion we have coming up, but also make us look nice. Sexy and cute clothes often don't come in larger sizes, and if they do, they fit in a strange way. When we finally do find a piece of clothing in our size, it's often ugly or awkward. Luckily, there are a great deal of amazing choices for plus size clothing featuring skulls. Below are the top five must-have items for every lovely plus size lady.
This is a black t-shirt with adorable, cartoon styled hearts and skull featured at the center of the bust. This shirt is perfect for those who are looking for a shirt that is both casual and comfortable, while also being cute and feminine. Its dual colors allow it to be matched with many items, though because of its casualness, jeans or leggings would work best. Wear it around the house or out grocery shopping—regardless of place, you'll definitely look cute.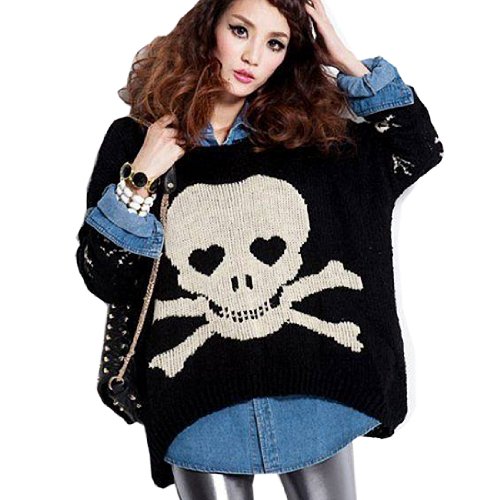 This black knitted pullover has a white, traditional skull and crossbones across the entire front of the sweater. It's perfect for wearing over virtually any outfit, and would be perfect for nearly any casual occasion. It's extremely comfortable, and its knitting makes it perfect for colder weather. Layer up for added warmth, and include this pullover for a guaranteed adorable outfit.
These pants have various different realistically illustrated skulls and roses littered across the legs in such a way that it gives the illusion of a very busy pattern. The gray color is the result of the overlapping images, making these pants great for any nighttime venture. The fabric itself is very soft and stretches, so don't worry about not looking amazing in these pants. It's impossible.
If you're looking for something adorable that you can wear either for every day things or out for a night on the town, then this is your shirt. It's loosely fitted, and comes in black with a metallic stud skull at the center of the torso. It flares at the base, which gives it the look of something a bit nicer than just a plain, casual shirt. Because of its basic colors, you can match it with any pants you own—go dark for mystery or bright for attention. This shirt will look great either way.
It's important to look good both on the outside of your clothes, but also know you look good on the inside of your clothes. This three-pack of panties comes with three different designs: A skull, a cross, and stars. They're extremely comfortable, but definitely not your average granny panty. They are too cute not to show off—grab a pack and wear them around!