Our Favorite Skull Tops for Ladies
There's nothing better than finding the perfect top—especially one you can wear just about anywhere. Women are expected to wear a very specific kind of clothing and specific kinds of colors, but everyone should be able to break that boring mold by picking clothes that fit their style and personality. For those of you who love skulls, and love great clothing options, below is a guide to the top five picks for women's tops featuring various skull designs.
This is an extremely versatile and comfortable shirt. The shirt comes in gray and features a large, very detailed white skull on the front. It's loose fit is perfect for leisurely activities, and its light weight is great for spring, summer, or fall. Wear it with jeans for a very casual outfit, or add a pair of nice pants to up the outfit a little for an outing. This shirt goes with just about anything!
This is a slate gray sweater that comes with a hood, and a loose fit. Made with a waffle texture, and with a large, very beautiful skull over the entire front of the sweater. The long sleeves make it the perfect addition for the cold weather, while the style allows it to also be worn alone. The best part? It comes with a front pocket. For a comfortable and practical pick, this is your best option.
Larger ladies shouldn't be excluded from nabbing a cute top—this shirt comes in black and features a metallic outline of a skull off to the side, at the center of the shirt. This is nice, comfortable, loose fit that looks cute enough to take out, and yet leisurely enough to wear in. The long sleeves makes it perfect for the colder weather—take it pumpkin picking and be sure to impress those around you.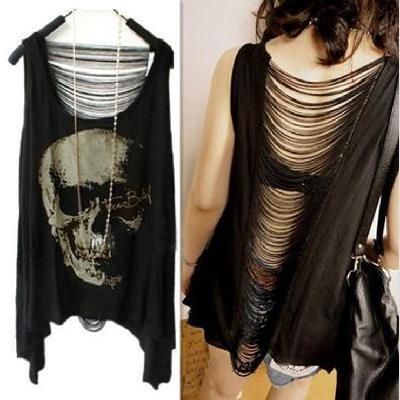 This is the perfect thing to wear to a party or club. Going out with friends for a night out on the town? Grab this one. Its dark colors are perfect for night events, and the open back ensures that you'll be the sexiest one there. This can be worn with jeans or with fancier pants or a skirt—match it with anything for nearly any occasion and know you've made the best choice.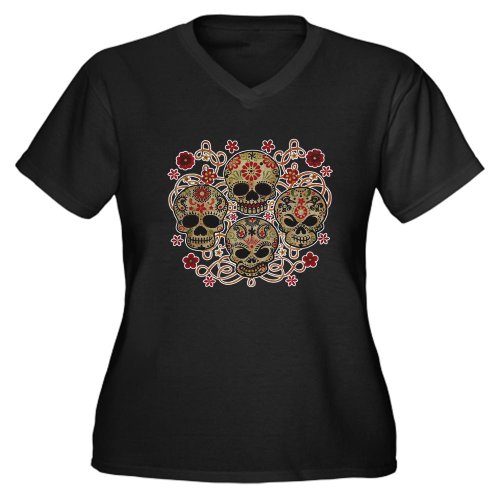 This casual, comfortable shirt comes in black and shows a very artistically drawn bundle of skulls. Wear it around the house, or out with friends. Its colors allow it to match any kind of pants, and the cute design makes it perfect for both casual occasions, as well as providing you with a cute something to wear out with friends.