Skull Underwear: Our Top 5 Picks
If you love your skulls and love them all over your clothing, then you probably want skulls on your underwear too, and that's why we're here to give you our top 5 picks for skull underwear, and we have quite a mix for you, with corsets, tights and panties. There's something for everyone on this list, whether you've just started wearing corsets and still need a little more waist training, to those of you who are seasoned corset wearers, to those who prefer the more simple pantie design.
This is one of our most popular corsets because of its sexy, fun, stylish and unique style. This corset isn't just for the bedroom, it is also a great fashion statement, and can be paired very well with a pencil skirt or a pair of skinny jeans. Comes in 4 sizes, small, medium, large and extra large, so no matter what size you are, there's one for you.
Here we have another very stylish corset, the steampunk design on this corset is very striking and a bit of a showstopper. The style on this skull underwear is both simple and striking, and so makes for a corset that can transcend any occasion. This can be worn as a smart-casual piece, a casual piece, say with jeans, or in the bedroom.
You're in for a treat with this pick. This skull clothing underwear piece is very unique and is sure to be a conversation starter anywhere you go wearing it. There are several things going on in this corset, from the hidden skulls in the black base of the corset, to the white and black lace-like skulls running up the corset, to the main striking component of this skull underwear, the metal spikes on the bust. It has a matching G-string that pulls the corset together. This is perfect for waist training, if you want to start wearing more corsets and more often.
If you've been looking for some unique, interesting looking skull tights, then these are perfect for you. You shouldn't complete your skull underwear purchases without getting a pair of statement tights that help pull the whole outfit together. These would go perfect with say, a simple black shirt, a pair of jean shorts, or maybe even the classic LBD (little black dress)
These sets of skull underwear have much more of a simple look than our other pick on the list, but this only adds to its simplistic appeal. These panties are both comfortable and sexy, they are made out of nylon/spandex type material that's very comfortable and durable, both pairs of panties always contain lace at the back, creating an added sex appeal. Another great thing about these panties is that they're on sale, with this excellent value for money, now is the time to get yours.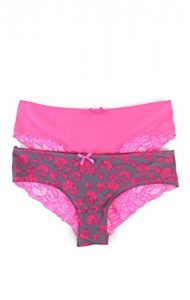 So there we go, that's our top 5 pick for skull underwear for you to feast your eyes on. We hope you've found what you're looking for, and if not, there are plenty more skull underwear options to browse through, with corsets having a hefty selection and being a popular choice. There's something for everyone on this list, no matter what size you are, and what size of corset you like, so snatch up your favorites now!