Our Top 5 Skull Wallets
Fashion trends come and go, but very few icons have maintained their popularity the way that skulls have. Today you can find a great deal of items that have skull imagery on it, and often times the variety of art and colors that accompany these items is impressive. If you're looking to invest in smaller items that will accent any of your outfits, then wallets would be a great area to explore. Wallets allow for your passion of skulls to be seen in an everyday fashion without looking over the top or strange. You can also mix and match items with other, previously owned things to really take advantage of the greatest variety. Below is a list of the top five must-haves for skull wallets.
Inexpensive, and easy to match with just about anything, this wallet is a must for those looking for something simple, yet complex at the same time. The center skull allows for easy identification of your passion while the complicated pattern on the main body of the wallet allows it to also be an accessory for just about any outing. The colors are calm and earth toned, which means they'll match any purse, and will be appropriate for any occasion. It's large, and will fit a great deal of stuff, so don't hesitate to just bring the wallet and ditch your bulky purse at home.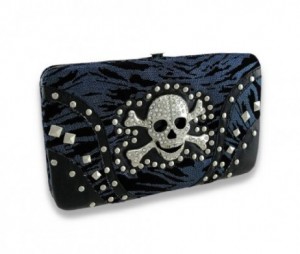 This is a really cute wallet for those who are looking to wow people around them, while also using something sensible and durable. The wallet features a purple tiger print design mixed with a skull and crossbones on the exterior. While subtle, it will definitely catch some glances from those around you. The inside is big enough to fit everything you could possible need during your outings, and the strong case will protect anything in case you drop your wallet. Definitely a must-have.
Sometimes, skulls carry with them the image of something that should belong to a boy, and often can most often be found in boring shades of black and white. This wallet, with its brilliant shade of purple, is a breath of fresh air when it comes to skull designs, and shouldn't be passed up. The outside is bright and feminine, but also totes a great deal of skulls that litter the outside like they've been thrown. The full zipper ensures that anything you have inside the wallet won't fall out during the day, making it both beautiful and practical at the same time.
This is an exceptionally cute wallet with a toned-down exterior, making it nearly perfect for any occasion. The skulls are found both on the faux leather, and also on the snap hold. Its subtle color allows you to bring it to work, or out to play without too many people noticing it, but the design is very appealing to the eye. This is a great wallet for those women who enjoy being unique without shouting about it—it says a lot about the holder. This wallet will match any purse, so don't worry about including it in your favorite bag, though it is also big enough to serve solo.
This is a very classic black and silver design—the pattern of skulls is very clever and extremely attractive. It both displays the unique and wild side to you, while also providing a great deal of choices in terms of where and with what you use it. It is big enough to hold just about everything you need, but if you want to put it in a purse, it will match any you already own. It's a great addition for anyone who likes a classic look, while also breaking the mold in terms of design.
We hope you liked our post about skull wallets! We have many other wallets, purses and bags in our shop here.