Top 10 Skull Bracelets
Skull clothing has an excellent range of skull bracelets that complete even the most complex of outfits. Some bracelets contain a high level of detail and others are unique and simple, with one common vein running through all, skull art. Now lets take a look at our top 10 picks!
Beautiful and elegant silver skull bracelet with many skulls on. This bracelet would be perfect for both everyday wear and evening wear because of the shiny silver that would go well with a black dress or pantsuit, and also with any casual outfit.
This skull bracelet is great for casual fashion wear! It makes a strong statement with the contrast of the black and silver and red, all of the colors tie together perfectly to create this casual statement piece.
Strong statement piece! This is a very unique piece of jewelry that works very well for casual fashion wear.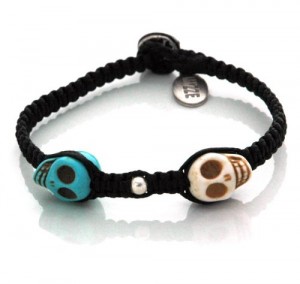 Perfect for casual fashion wear! The black contrasts well with the turquoise and cream in this simple and stylish bracelet.
This unisex skull bracelet is perfect for casual wear. The bracelet is very stylish with many layers to it, from the leather, to the to the beads and the skull.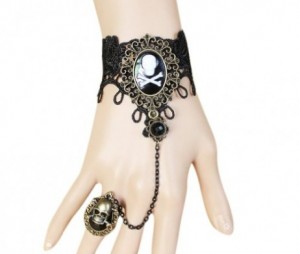 Very delicate and unique looking skull bracelet, perfect addition to a Halloween outfit.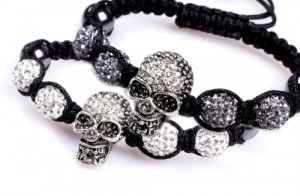 This skull bracelet is very stylish with its contrasting black and silver colors, along with the shiny beads. It makes a great addition to any casual outfit. It's also adjustable, so it's perfect for all sizes, and it's also on sale!
Perfect for casual wear, this skull bracelet is made entirely of black skulls and will work well for all of your day-to-day outfits if you simply want to add a bit of flair to your ensemble.
This skull bracelet is simple and stylish, working well with both casual attire and more dressy attire. The silver gold and black colors add a simple but elegant flair to the bracelet, making it the perfect accessory for all occasions.
This skull bracelet is a little different from the others on our list because of the cream and light green tones. Most of the other bracelets focus more on contrasting bold colors like black, silver and gold, but the tones in the bracelet are much more subtle, but still makes for a bracelet that is an excellent addition to any outfit.
So there you go, there's our top 10 picks for skull bracelet jewelry! There's something on this list for everyone and for all occasions, whether you're just going for a casual coffee with friends in the day, or dressing up for something a little more formal in the evening. These bracelets are not only an excellent fashion statement accessory, but also very affordable, and even more so for the ones that are on sale, so if you've been on the fence about buying yourself a skull bracelet, we recommend jumping in and getting one right away.